sspc shop
SSPCI Shop
Paper Towel Holders, Napkin Holders, Welcome Signs
SSPC is selling adorable paper towel holders, napkin/mail holders and Welcome signs featuring beautiful hand painted Papillons.

Papillon Paper Towel Holders - $25 +shipping to your location
Papillon Napkin/Mail Holders - $20 +shipping to your location
These are 2 separate wood cutouts with a space in between. $20 +shipping.
Papillon Welcome Signs - $20 +shipping to your location
Every piece is different. Pictures of what we have available will be posted as available. Email Shop Contact for additional information on availability.

Shop Contact: Elizabeth Louise Shelton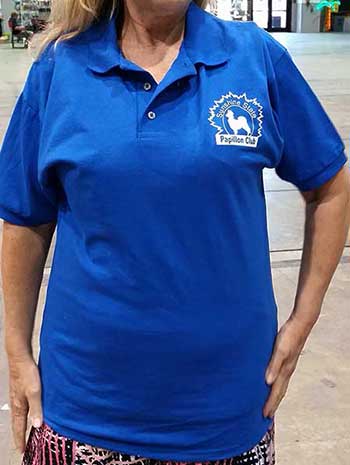 The shirt is unisex, a fifty-fifty cotton/polyester blend, pre-shrunk and runs slightly small. It can be ordered in the following sizes: S, M, L, XL, 2X, 3X, & 4X.
The price of the shirt is $20 for S, M, L and XL,
$22 for 2X, $24 for 3X and $26 for 4X plus $5 shipping.

Please note on your order if you are attending the Orlando Show. If you pick your shirt up at the Orlando Show shipping is FREE!!! Otherwise, shipping will be $5. You can wear your shirt at the Orlando show and the meeting, but not in the ring.
Order from our Treasurer: Val Garcia
Address: 7701 Quail Hollow Blvd.
Checks: Make checks out to: SSPCI
See the attached order form which should be sent to Valerie Garcia and received by Wednesday, September 2, 2015 with your check or make PayPal payment to HoneyKystgolden@msn.com.
If you use PayPal, remember to email the completed order form to HoneyKyst@msn.com. Remember shipping is only free if you pickup your shirt at the Orlando Show! Otherwise, add $5 for shipping.

Email any questions to Val at HoneyKyst@msn.com.

Orders will only be placed once payment is received.